Blink – cartea lui Malcolm Gladwell – despre prima impresie, prima judecata pe care o faci – de cele mai multe ori cea mai buna. Se aplica la interviuri de angajare, la prima intalnire, in situatii extreme, etc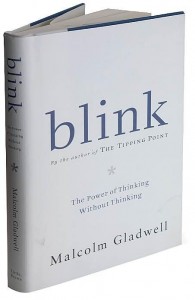 "1. What is "Blink" about?
It's a book about rapid cognition, about the kind of thinking that happens in a blink of an eye. When you meet someone for the first time, or walk into a house you are thinking of buying, or read the first few sentences of a book, your mind takes about two seconds to jump to a series of conclusions. Well, "Blink" is a book about those two seconds, because I think those instant conclusions that we reach are really powerful and really important and, occasionally, really good.
You could also say that it's a book about intuition, except that I don't like that word. In fact it never appears in "Blink." Intuition strikes me as a concept we use to describe emotional reactions, gut feelings–thoughts and impressions that don't seem entirely rational. But I think that what goes on in that first two seconds is perfectly rational. It's thinking–its just thinking that moves a little faster and operates a little more mysteriously than the kind of deliberate, conscious decision-making that we usually associate with "thinking." In "Blink" I'm trying to understand those two seconds. What is going on inside our heads when we engage in rapid cognition? When are snap judgments good and when are they not? What kinds of things can we do to make our powers of rapid cognition better?
2. How can thinking that takes place so quickly be at all useful? Don't we make the best decisions when we take the time to carefully evaluate all available and relevant information?
Certainly that's what we've always been told. We live in a society dedicated to the idea that we're always better off gathering as much information and spending as much time as possible in deliberation. As children, this lesson is drummed into us again and again: haste makes waste, look before you leap, stop and think. But I don't think this is true. There are lots of situations–particularly at times of high pressure and stress–when haste does not make waste, when our snap judgments and first impressions offer a much better means of making sense of the world.
One of the stories I tell in "Blink" is about the Emergency Room doctors at Cook County Hospital in Chicago. That's the big public hospital in Chicago, and a few years ago they changed the way they diagnosed heart attacks. They instructed their doctors to gather less information on their patients: they encouraged them to zero in on just a few critical pieces of information about patients suffering from chest pain–like blood pressure and the ECG–while ignoring everything else, like the patient's age and weight and medical history. And what happened? Cook County is now one of the best places in the United States at diagnosing chest pain.
Not surprisingly, it was really hard to convince the physicians at Cook County to go along with the plan, because, like all of us, they were committed to the idea that more information is always better. But I describe lots of cases in "Blink" where that simply isn't true. There's a wonderful phrase in psychology–"the power of thin slicing"–which says that as human beings we are capable of making sense of situations based on the thinnest slice of experience. I have an entire chapter in "Blink" on how unbelievably powerful our thin-slicing skills are. I have to say that I still find some of the examples in that chapter hard to believe."